Brexit
Menty
22 Feb 2018
hitman_hatton1, on 22 February 2018 - 07:28 AM, said:
we always have been able to control immigration from outside the eu AND inside the eu, its just some retards actually believed those chancers johnson and farage who repeatedly told us immigration from the EU is uncontrollable
http://www.migration...migrant-stocks/
EU migrants are a key group as they enjoy free movement within the European Union; hence, the UK Government cannot limit their immigration under EU law.
Menty
22 Feb 2018
Dont you understand what I posted from the official journal of the EU? Anyone coming from the EU has to have a job, or has to prove they have sufficient money so they and their family dont live off state benefits, and have their own health insurance. If the government actually enforced this law then all those romanian neighbours who scare you so much would be off like a shot.
The fact is you and millions of others like you were lied to and still continue to believe these lies even when provided with the facts.
2nd anniversary of the brexit vote.
the bbc top story on the pro eu march in london today.
not one mention of the anti eu march also taking place today.
some proper fruitloops on the march today.
Menty
23 Jun 2018
Brexit means Brexit. Take back control. We want our country back. No deal is better than a bad deal. They need us more than we need them. Blue passports. Fish.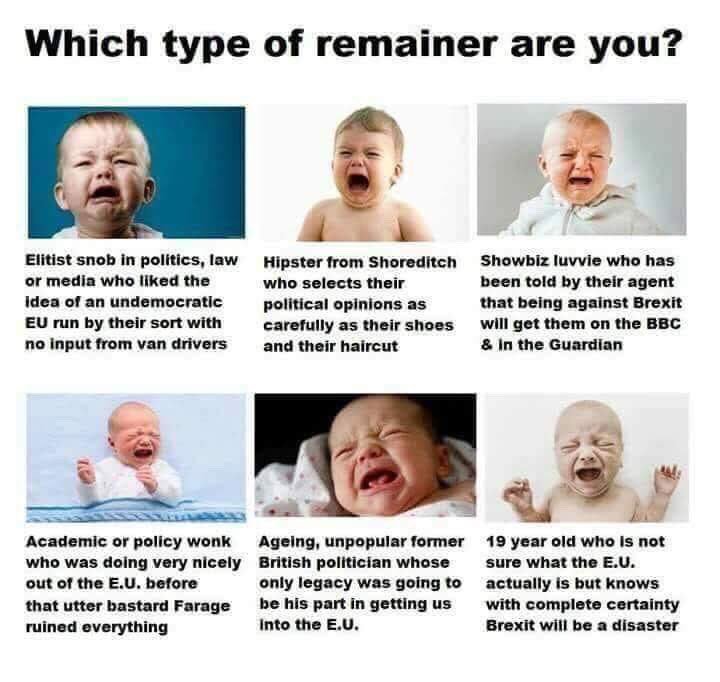 surely a tory leadership challenge is in the works.

should never have been a remain replacement after camerface.